Poor air quality can impact views. The image on the left shows an air quality rating of "very poor", while the image on the right shows an "excellent" air quality rating. Click the image to see today's visual air quality rating.
The FVRD is located in the Lower Fraser Valley airshed. The surrounding mountain ranges combined with prevailing wind patterns can push pollutants into the eastern portion of the valley, where air dispersion is restricted.
Ensuring excellent air quality is our priority. The FVRD, in collaboration with Metro Vancouver, the BC Ministry of Environment, Environment Canada, Port Metro Vancouver and agencies in Washington State, is continually working to improve it.
On-going efforts to understand and improve air quality in our region, include:
Monitoring Air Quality
Hosting six air quality monitoring stations: Abbotsford (x2), Agassiz, Chilliwack, Hope and Mission. Click the image below to see real time measurements.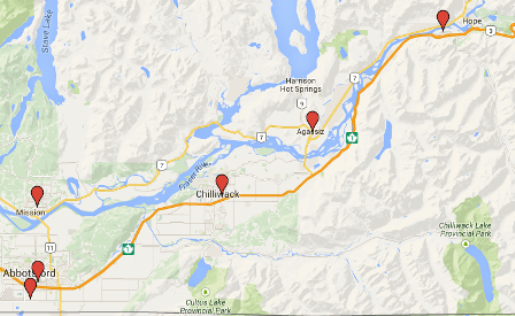 Reducing Vehicle Emissions
Other Initiatives
Creating and implementing a strategy to lower harmful ground-level ozone concentrations.
Studying options to reduce the impact of open burning.
Participating in interagency committees on human health and agriculture.
Delivering a Wood Stove Exchange Program
Contributing to the understanding and public knowledge of visual air quality.
Creating an air quality education program for elementary and secondary school students.