This is a reminder to citizens with concerns about snow plowing, potholes, icy conditions or any other winter road-related concerns that the FVRD does not have jurisdiction over roads within its boundaries and is not responsible for the maintenance and snow plowing of roads.
If you have a concern about road maintenance, please contact the relevant municipality or Provincial service contractor. We've compiled some links and contacts to make sure your information gets to the right people.
The City of Abbotsford, the City of Chilliwack, the Village of Harrison Hot Springs, the District of Hope, the District of Kent, and the District of Mission are responsible for snow clearing within their municipal boundaries.
Within the FVRD's Electoral Areas, all of the roads are the responsibility of the Ministry of Transportation and Infrastructure.
The Provincial contractor within the FVRD boundaries is:
Emil Anderson Maintenance
1-800-667-5122
info@eac.bc.ca
Service area map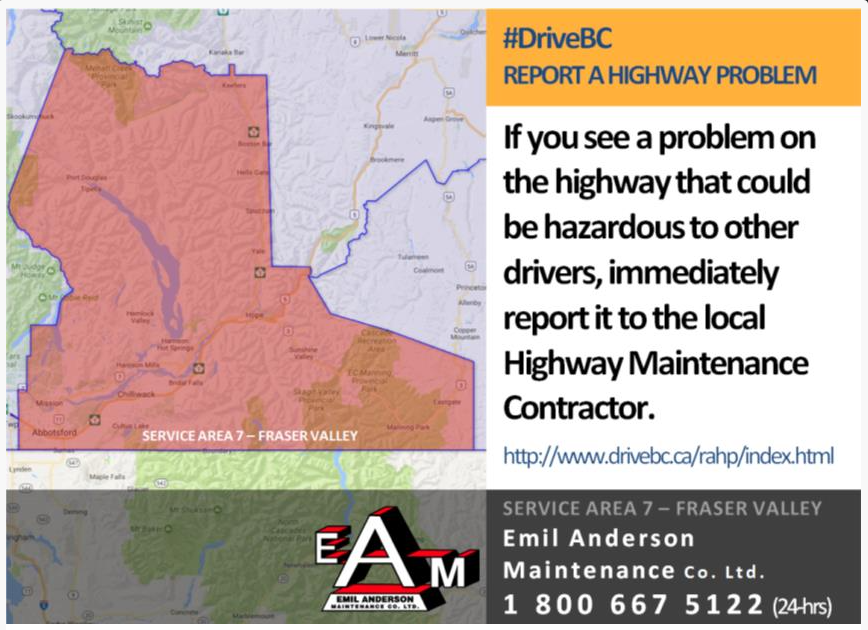 Ministry contact: Lower Mainland District Office 604-527-2221
You can also report a non-emergency problem with a Provincial Highway at DriveBC.