Fraser Valley residents looking to travel to Metro Vancouver can now ride the Fraser Valley Express (FVX) to Lougheed Town Centre SkyTrain Station and Bus Exchange beginning March 27. The limited stop express route offers residents with convenient connections to Burnaby and beyond into Metro Vancouver.
"Extending Route 66 FVX from the Fraser Valley to the SkyTrain in Metro Vancouver expands the possibilities for residents and visitors travelling to and from our region. Public transit provides a vital link from our rural and urban communities to health care, business, and educational opportunities" said Jason Lum, Chair, Fraser Valley Regional District.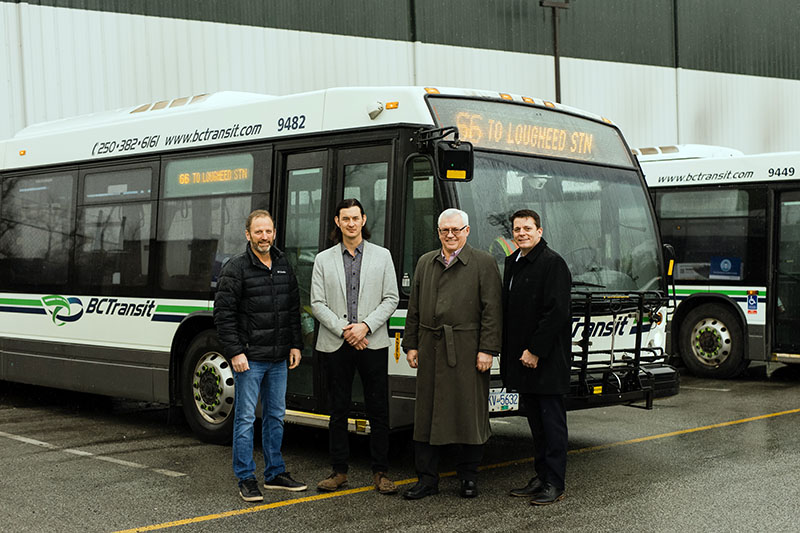 Left to Right: Jeff Shields (Chilliwack Councilor), Jason Lum (FVRD Board Chair), Henry Braun (Abbotsford Mayor), Rob Ringma (BC Transit)

The Route 66 FVX currently extends from downtown Chilliwack through Abbotsford to the Carvolth Exchange in Langley via Highway 1.
Lougheed Town Centre offers two TransLink Skytrain lines – Millennium and Expo – and one of the best-served and busiest RapidBus exchanges in the region. Easy access to nearby pedestrian and cycling routes also provides easy integration between public transit and other forms of active transportation.
Metro Vancouver residents can connect with the Route 66 FVX at Loughheed Town Centre or Carvolth Exchange in Langley to travel on to Chilliwack where they can then access routes traveling to Agassiz–Harrison and Hope.
BC Transit, the Fraser Valley Regional District, City of Abbotsford and City of Chilliwack worked in close collaboration with TransLink on the FVX extension.
About FVX Route 66
Fraser Valley riders can either access the Route 66 FVX from local transit, or can take advantage of Park & Ride locations at Lickman Road, McCallum Road and Highstreet Shopping Centre.

Riders will need to purchase a ticket to board the SkyTrain or to connect to TransLink buses.
The March 27 service change will bring FVX riders:
Two additional round trips on Saturdays - including a later departure time towards Chilliwack as well as an earlier start heading towards Metro Vancouver
A new weekday round trip in the middle of the afternoon, heading eastbound from Carvolth at 2:57 pm, High Street at 3:25 pm and McCallum 3:36 pm.
A new weekday very early trip, departing Chilliwack at 4:40 am and arriving at the Skytrain at 6:11 am.
More time in the schedule to keep the FVX on-time when traffic congestion is high
A detailed preview schedule is now available for the Central Fraser Valley and Chilliwack, so customers can begin trip planning. New schedules will be available in the coming weeks here.
For route and schedule information in Metro Vancouver, please visit translink.ca.