For residents of Chilliwack, Hope, Kent, Harrison, Mission, and Electoral Area H now is the perfect time to take action against indoor radon gas.
Radon is the leading cause of lung cancer in non-smokers and is found in homes across Canada. To help raise awareness, the Fraser Valley Regional District, in partnership with Take Action on Radon and BC Lung, is taking part in the 100 radon test kit challenge.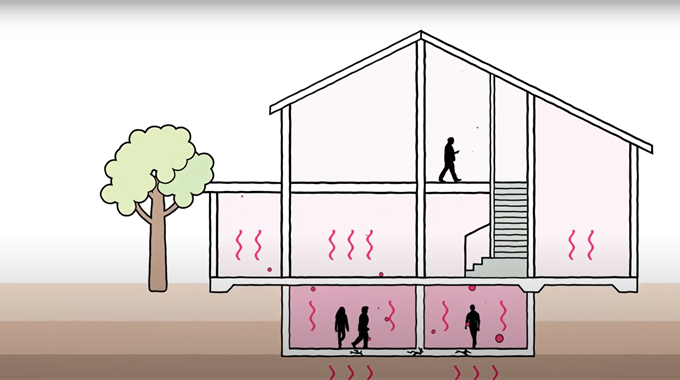 Image from BC Centre for Disease Control
Radon is a naturally occurring colourless, odourless, radioactive gas that is released when uranium breaks down in soils and rocks. Radon released from the ground into outdoor air gets diluted and is therefore not harmful. However, radon is a problem in indoor settings, where it can build up and pose a risk to your health.
The 100 test kit challenge provides 100 easy-to-use test kits for residents to test for radon in their homes. Testing is as simple as placing a kit on the lowest inhabited floor of their home for 100 days and then returning the kit to a drop-off location.
Kits are limited and will be given to the first residents to claim the kits. Sign up for your free kit: takeactiononradon.ca/100-radon-test-kit-challenge
Radon Information Sessions
Chilliwack
Tuesday, November 22
6:00 pm - 8:00 pm
Chilliwack Cultural Centre
9201 Corbould St
Mission
Wednesday, November 23
7:00 pm
Online Info Session
Register Here
Test Kit Registration
Find your community below and click on the link to register for your radon test kit. Test kits will be available for pickup after November 21.
Community

Pick-up Location

Registration

Chilliwack

Chilliwack City Hall

8550 Young Rd

Cultus Lake (Area H)

Cultus Lake Park Office

4169 Columbia Valley Hwy

Harrison Hot Springs

Village Office

495 Hot Springs Rd

Hope

Hope District Hall

325 Wallace St

Kent

Kent Municipal Hall

7170 Cheam Ave

Community Recreation and Cultural Centre

6660 Pioneer Ave

Mission

Welton Common

7337 Welton St

Mission Leisure Centre

7650 Grand St
Learn more about radon
BC Centre for Disease Control – Radon (video)