The Hope Recreation Centre is located in beautiful Hope, BC and is home to the Dan Sharrers Aquatic Centre, arena, weight and cardio rooms, fitness studio, and conference centre.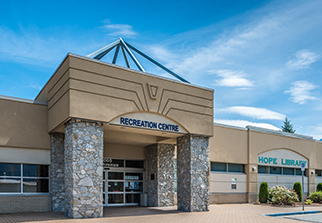 Reception Hours*
Monday - Friday 8:30 am - 8:30 pm
Saturday 10:00 am - 8:30 pm
Sunday 10:00 am - 5:30 pm
*The reception hours for the facility may not be the same as the hours for the Arena, Pool, and Fitness Centre. Please view the drop-in schedules below.
Drop-in Schedules
Spring 2023 (April 1 - June 30)
Spring 2023 Drop-in Schedule [PDF - 491 KB]
Winter 2023 (Jan 2 - Mar 31)
Winter 2023 Drop-in Schedule [PDF - 488 KB]
Recreation Guide
Spring 2023 (April 1 - June 30)
The Spring 2023 Recreation Guide is here! Click the image below to browse programs. Registration opens Monday, March 13 at 8:30 am.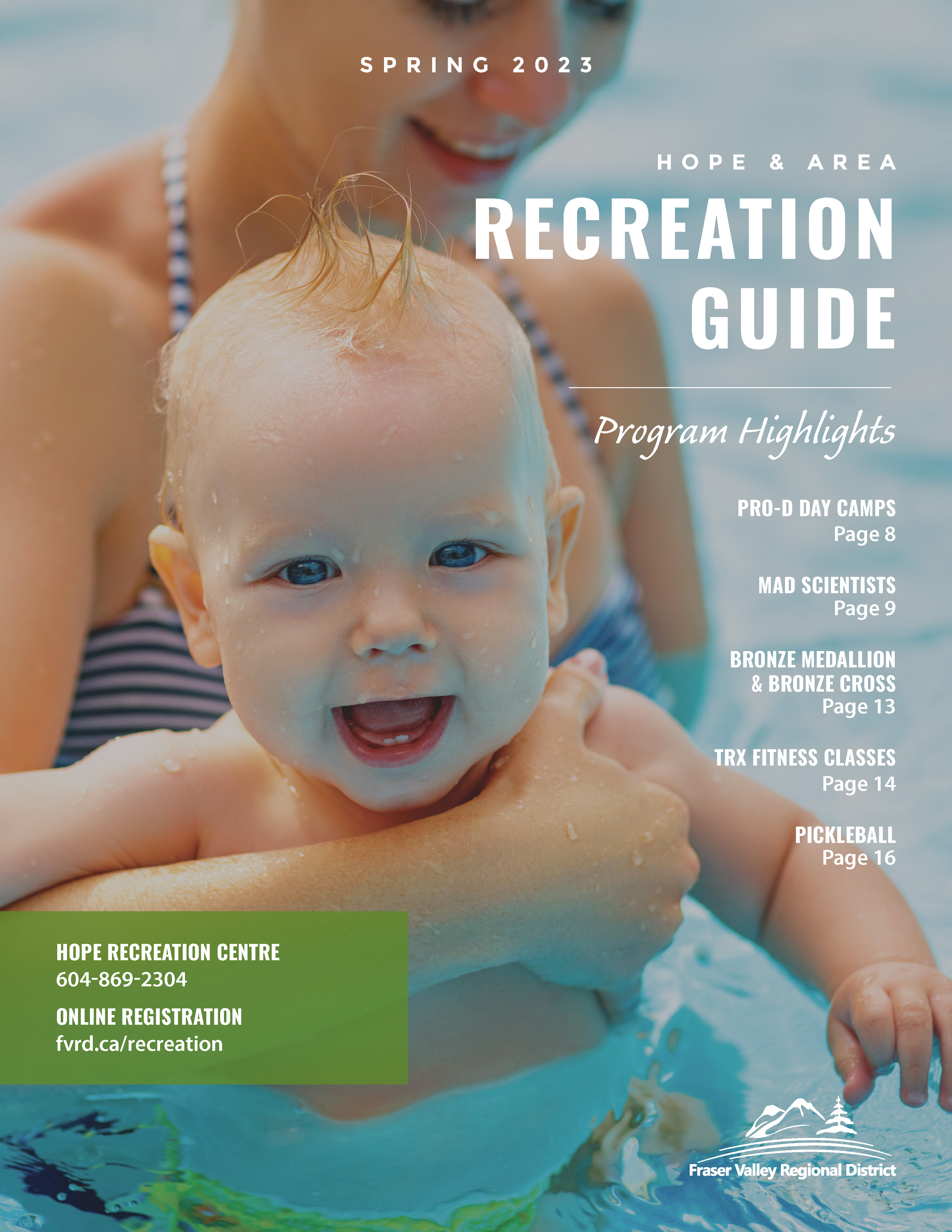 [PDF - 3 MB]
Winter 2023 (Jan 2 - Mar 31)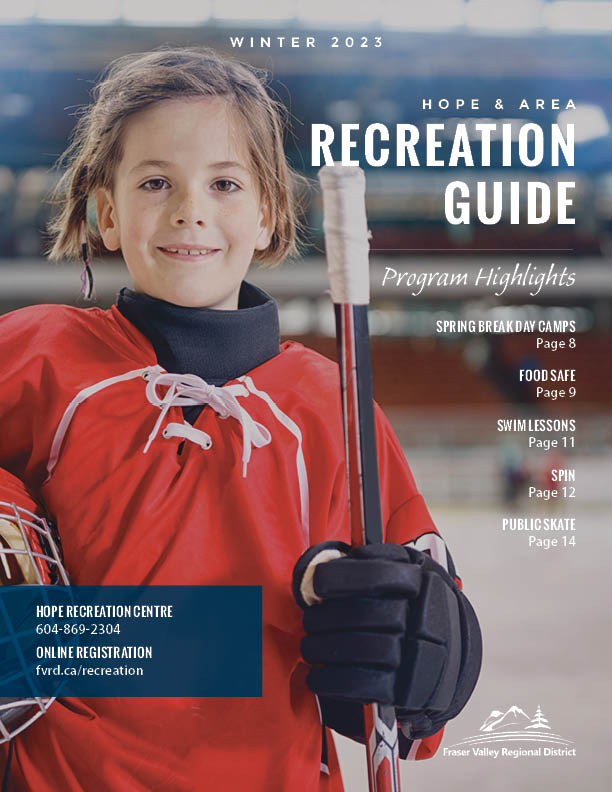 [PDF - 2 MB]
Online Registration
Click the button below to view and register for classes, programs, and purchase facility passes online.

Location
1005 6th Ave Hope, BC
View on Google Maps
Amenities
Arena
25-metre lap pool with 1-metre and 3-metre diving board
Leisure pool with spray features and a rapids channel
Hot tub, sauna, and steam room
Large men's, women's, family and wheelchair accessible changerooms
Cardio room with elliptical trainers, treadmills, recumbent and upright bikes, stair climber, rower, and a NEW! Nustep
Weight room with a variety of free weights including a power rack and bench press, cable systems, and a stretching area with mats, body balls, BOSUs and medicine balls
Conference centre and meeting rooms
Mezzanine
COVID-19 Safety
Handwashing and/or sanitizing is encouraged.
We encourage all patrons to respect each other's personal space and to maintain physical distancing.
If you are sick, stay at home. If you appear to be sick, you will not be allowed entry.
Please disinfect all equipment before and after use.
Read the Facility and Rental Guidelines for info on rental groups at the pool or arena
Read our FAQs for more information
Come Work With Us
We are recruiting for a number of positions. Check out our current job opportunities.
Contract Fitness Instructors
Are you a fitness leader looking to engage and empower others to be happy and healthy? We are looking for self-motivated, enthusiastic, and energetic contract fitness instructors to teach at the Hope Recreation Centre.
Please submit this Expression of Interest form, along with your resume, to Mike Freimark, Acting Manager of Recreation Services, by email at mfreimark@fvrd.ca or in person at the Hope Recreation Centre.