Every year, wildfires are getting bigger and more frequent in BC. Many of these fires occur in areas called the wildland urban interface zone where homes, cabins, and subdivisions are built into the forest landscape.
Even homes not directly in the forest are at risk. Stats have shown that 50% of homes burnt during a wildfire are started by embers, which can travel up to 2 km on average. Embers have been known to travel up to 6 km in the right conditions.
Homeowners play an important role in wildfire prevention. There are steps property owners can take to reduce the risk of wildfire affecting their properties.
The homes that are prepared are the homes left standing.
Get FireSmart at Home
FireSmart principles are designed to mitigate a home's vulnerability to wildfire. Homes ignite due to the condition of the home and everything that surrounds it, up to 100 metres from the foundation – this is called the Home/Structure Ignition Zone.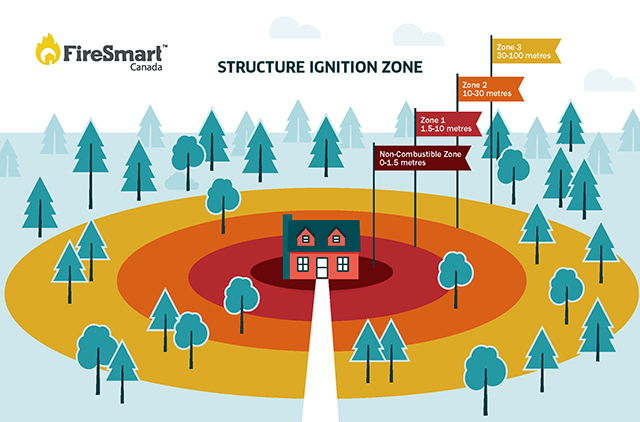 Learn more about the Home Ignition Zone and how you can take proactive action on your property to reduce wildfire risks.
FireSmart Begins at Home Manual
The recommendations in this manual will help reduce the risk of wildfire near your home and neighbourhood and provide a better opportunity for firefighters to defend your home.
Get started by clicking on the manual below to download the PDF or pick up a paper copy at the FVRD office.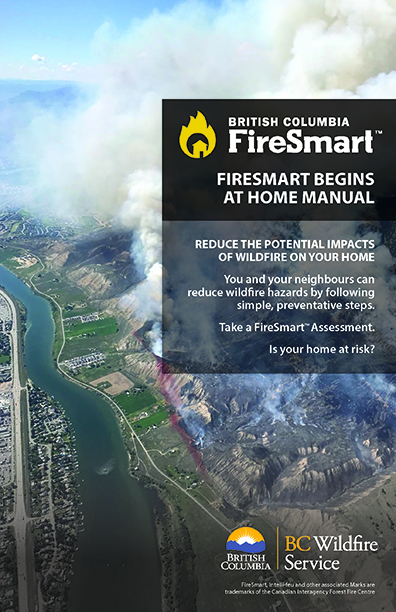 FireSmart BC Landscaping Guide
By making some strategic choices in your yard, you can increase the wildfire resiliency of your property. The FireSmart BC Landscaping Guide includes an extensive list of fire-resistant plants, as well as tips on how to create a FireSmart landscape around your property.
Get started by clicking on the guide below to download the PDF or pick up a paper copy at the FVRD office.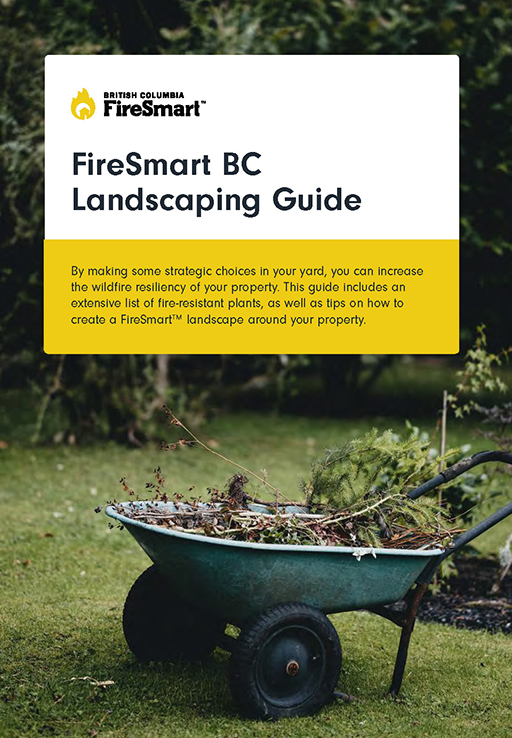 Fact Sheets
Preparing your home and yard as recommended can help your home survive a wildfire.
Check out the fact sheets below and consider these guidelines for each area of your home when designing a new home, planning an upgrade, and as a part of your ongoing home maintenance.
For more homeowner tools and resources visit FireSmartBC.ca
Request a Free Assessment
Electoral area residents can request a free home ignition zone assessment from our FireSmart Representative. Please email firesmart@fvrd.ca to request an assessment of your home.
All FireSmart assessments are subject to the availability of a representative in your area and the overall budget for assessments. These private assessments are designed to help the homeowner understand how to be more FireSmart, including how to reduce the risk of wildfire on the property and around the home. The assessment is for the use of the homeowner only and cannot be used in any other manner.
Rebate Program
Get $500 to FireSmart your home!
STEP 1: Request a FREE FireSmart Home Ignition Zone Assessment
Email firesmart@fvrd.ca to book your free assessment.
STEP 2: Take action on the recommendations made in your FireSmart Assessment
Take action on some or all of the recommendations on your FireSmart Home Ignition Zone Assessment Score Card.
STEP 3: Fill out the application
Fill out the FireSmart Grant Application form including the work completed section.
Fill out the Work Hours Estimate Form for the hours spent performing your recommended mitigation work. A minimum of $1000 worth of materials and/or labour is required to be eligible for a $500 rebate. Only activities outlined on the Work Hours Estimate form are eligible for reimbursement.
Showcase the wildfire mitigation work you have completed by submitting before and after photos and receipts.
STEP 4: Get your REBATE!
Submit your Grant Application, Work Hours Estimate Form, receipts, and before and after photos to firesmart@fvrd.ca. Upon verification, a rebate cheque of $500 per property is issued. Please allow 2-4 weeks for processing. Funds are limited so rebates are first-come-first-serve.
FireSmart Tips for Farms, Ranches, and Acreages
As producers, you've invested years of hard work in the land. You also have to consider livestock, crops, equipment, and infrastructure. By integrating some basic FireSmart principles into regular farming and ranching practices, you can reduce the potential threat of a wildfire to start and limit the impact of a wildfire that threatens your property. Learn more about farm and ranch wildfire preparedness.
Watch the video to understand how wildfire can spread through a farm/ranch operation and learn simple, practical steps for mitigating this risk.
Develop a Plan
The Farm/Ranch Wildfire Preparedness Guide and Workbook are designed to help you protect your land, your assets, and your livelihood from wildfire. Use the Guide and Workbook together to develop a wildfire preparedness plan that's customized to your specific operation. Paper copies of the Farm/Ranch Wildfire Preparedness Guide and Workbook are also available for pick up at the FVRD office.
Workshop for Farmers & Ranchers
This two-part workshop series for farmers and ranchers highlights potential wildfire risks to agricultural operations and the measures producers can take to prepare for and mitigate those risks. Each webinar is 1.5 hours long and covers key content in the farm/ranch wildfire guide and workbook.
BC Farm & Ranch Wildfire Preparedness: Part A
BC Farm & Ranch Wildfire Preparedness: Part B
Community Wildfire Protection Plans
Community Wildfire Protection Plans (CWPP) aim to develop strategic recommendations to assist in improving safety and to reduce the risk of damage to property from wildfires. The CWPPs provide a framework that can be used to review and assess areas of identified high fire risk.
Zone A (Electoral Areas A & B)
Zone B (Electoral Areas C, F & G)